More Clothing, Bags, etc.
Click here for Clothing, Bags, etc. Page 1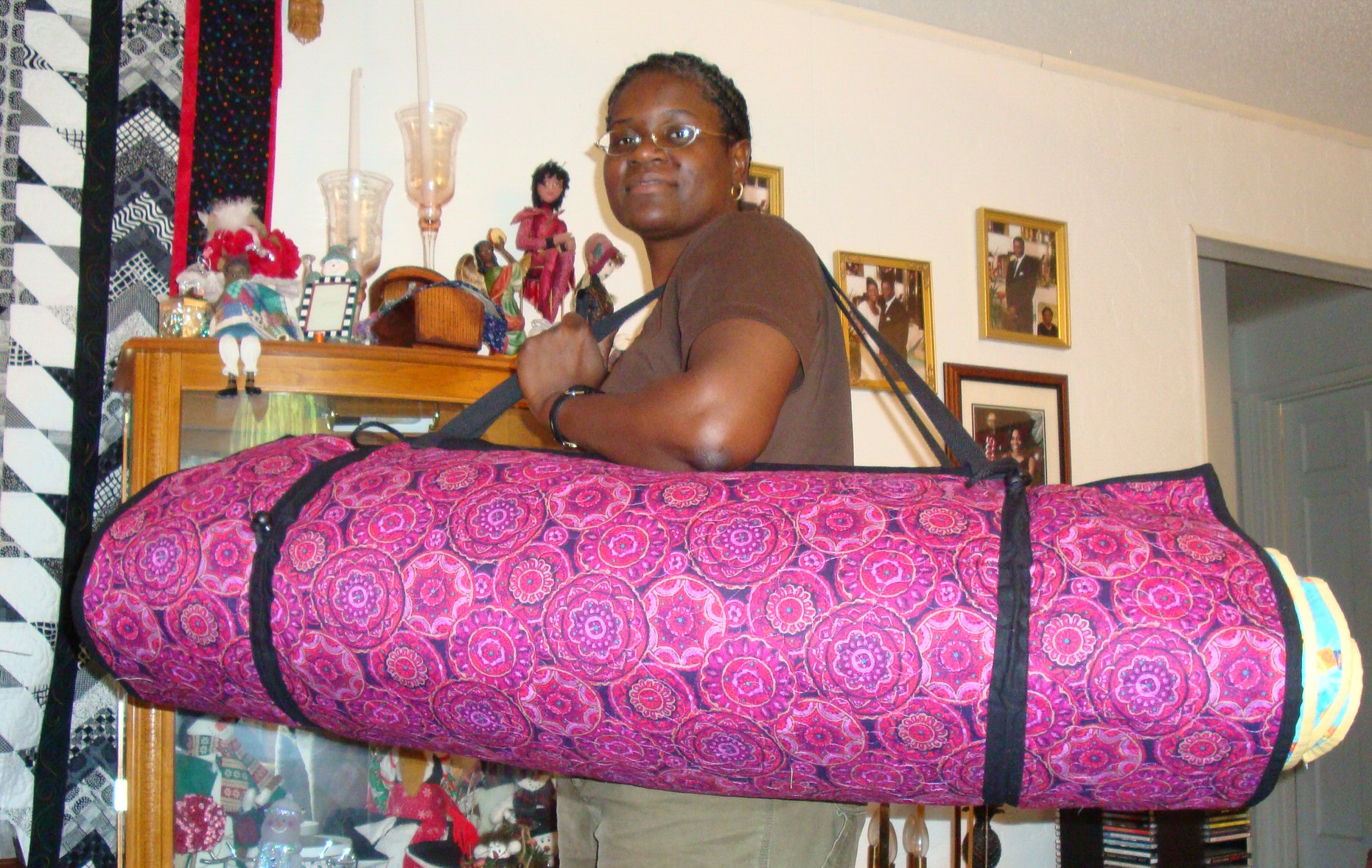 Show And Tell Quilt Carrier
This carrier will hold a lot of quilts. I made a few modifications to the pattern that's in the book "ABCS of Long Arm Quilting" by Patricia C. Barry. This photo shows me with the carrier that has 6 quilts rolled up into it. It can be a little bulky but it is way better than having to carry 2-3 bags of quilts to quilt functions.
July 2008
| | |
| --- | --- |
| | |
All Together Now Pillow Sham - Made for my All Together Now Quilt which is on the UFO page. Hopefully I'll get the quilting done on the quilt really soon as I'm already using the pillow.

Grab Bag - Made for my friend's 50th birthday. February 8, 2007 I think this bag would make great wall storage for supplies/projects at the same time being decorative.
Pillows - Extra blocks left over from These Shoes Were Made for Walking quilt I made for my cousin. See 2006 quilts to view the quilt. 7-12-06
Pillow Sham - I used extra fabric left over from Stars for Starnisha to make a sham for my niece. See 2006 quilts to view the quilt. 7-12-06

Scraps, Sweat and a Tantrum (Sweatshirt Jacket) - Used blocks from a UFO and then added orphan blocks left over from yellow brick road quilt and a stack-n-whack project. I then pulled all shades of blue and a touch of yellow from my scrap bin. I was pleasantly surprised how this jacket turned out. Began 5/27/06 (cant remember how old the UFO blocks were) and completed 5/30/06.

A Toad is Still a Toad - My quilt quilt exchanged ugly fabrics and the challenge was to use them together in a project. My husband thinks this little fellow is cute. He sure can have it! 7-12-06

Shop Hop Backpack - This pattern was purchased during the 2005 shop hop. This pattern is from Quilted Compositions. Began 4/9/06 to 4/13/06. I need to add grommets for the drawstring and for the life of me, I can't get the little gadget to work.

Paducah Backpack - I made this back to take to Paducah this year. It should be able to hold plenty of stash I plan to purchase. Pattern can be found in Fons & Porter's Love of Quilting March/April 2005 issue. Made March 2006

Crochet Scarves - I made at least 10 scarves during December 2005 some of which were Christmas gifts.
| | |
| --- | --- |
| | |
| Fiber Bowl - Take your scraps, left over thread tails, yarn and anything else in your trash bin and make a fiber bowl. Completed December 2005 | Fabric Box - I made this box in December 2005. I would like to add some embellishments but haven't gotten around to it yet. |
| | |
| --- | --- |
| | |
| Basket Ornament - Made using the pattern in Fons' & Porter's December 2005 issue. | I just finished making seven Can Caddy Covers using Simplicity Pattern No. 9076. They are gifts for members of my quilting guild. They are very quick to make. I made one yesterday and then cut the other six. I just finished, although I've been watching Lifetime television throughout the day. I sewed during commercials as I don't have cable TV in my sewing room. Fall 2005/Winter 2006 |
| | |
| --- | --- |
| | |
| Raggedy Tote - I made a total of 4 of these totes during the week of September 11, 2005. I was on a roll making totes. | Totes- I completed these totes during the week of September 11, 2005. I made an additional tote not shown from leftover stack-n-whack blocks. I was on a roll making totes. |
| | |
| --- | --- |
| | |
| Totes and Fabric Bowls - I completed these bowls and totes during the week of September 11, 2005. I was on a roll making totes. | Crochet Socks - I was in JoAnns and saw the "Learn to Crochet Socks" booklet by American School of Needlework and had to try making a pair as I love socks. Began 5/30/05 Completed 6/24/05 |
| | |
| --- | --- |
| | |
| I made this chair caddy to take to a retreat the next day. Began 2/12/2004 at 7:30 p.m. Completed 2/13/2004 at 4:30 a.m. Instructions are from Nancy's 10-20-30 minutes to quilt book. | Quilted Tote Bag - I made another tote bag in neutral colors this time. May 2005 |