| | |
| --- | --- |
| | More Works in Progress |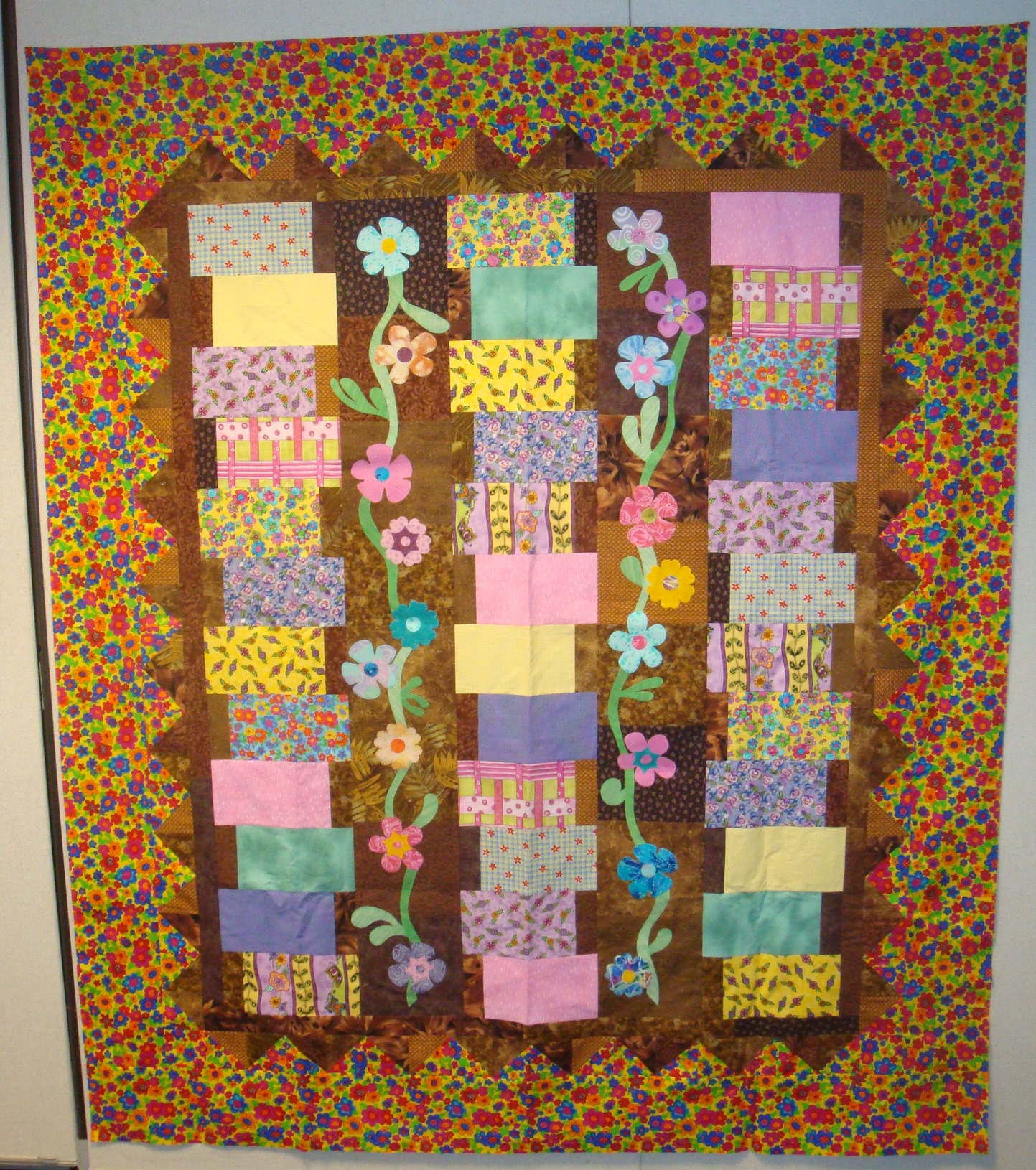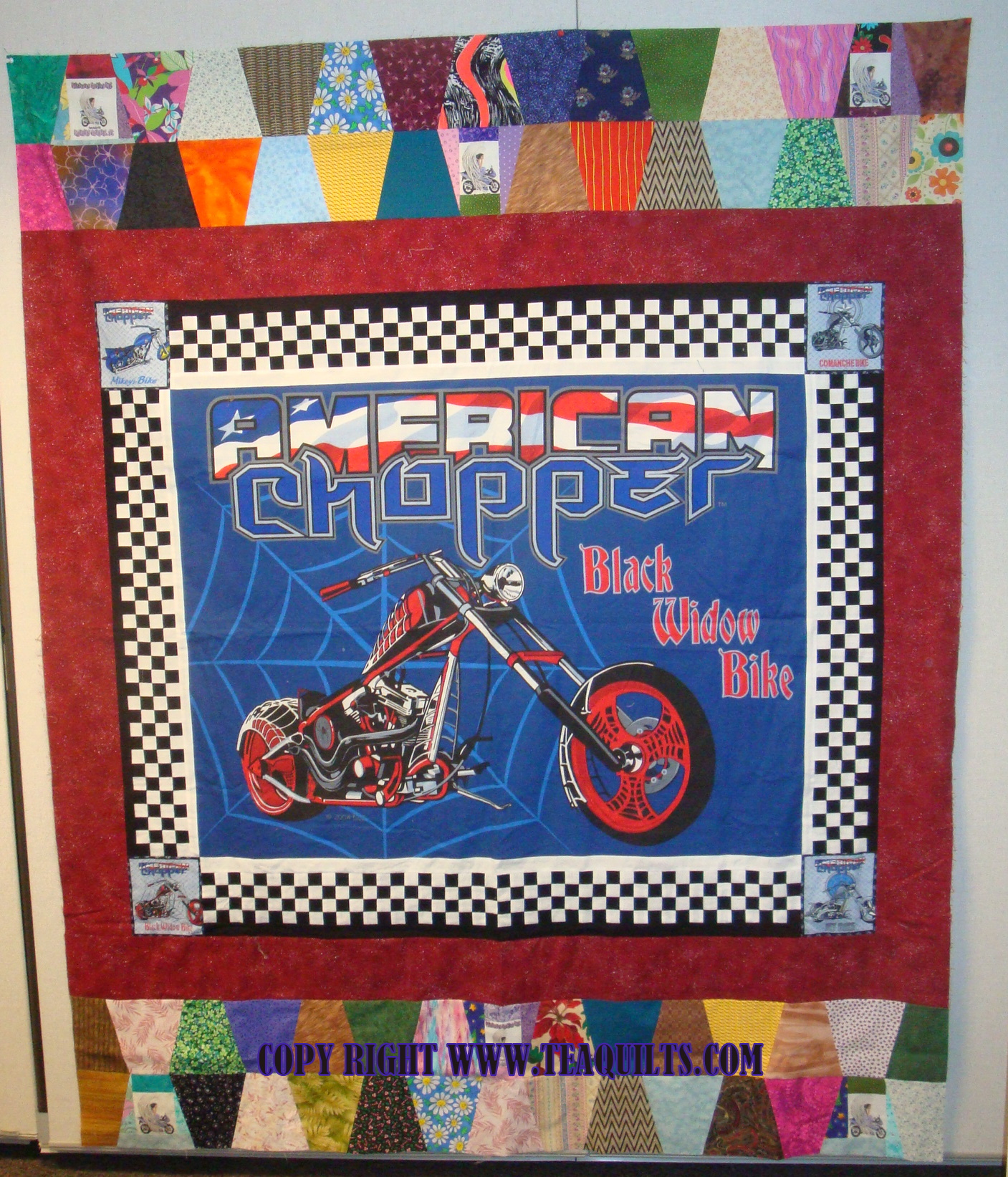 NEW This quilt top is for my cousin's wife. I couldn't get the true colors to show up in my home. Hopefully when it's quilted I can take a photo outside. December 2010
NEW Tumbling along on my motorcycle - for my cousin who rides a bike. Started with the panel and added the checkerboards, finding smaller panel for the corner squares. After adding the red border I showed it to her and she wanted more color so I added tumblers to the top and bottom, including her motorcycle club logo in a few of them.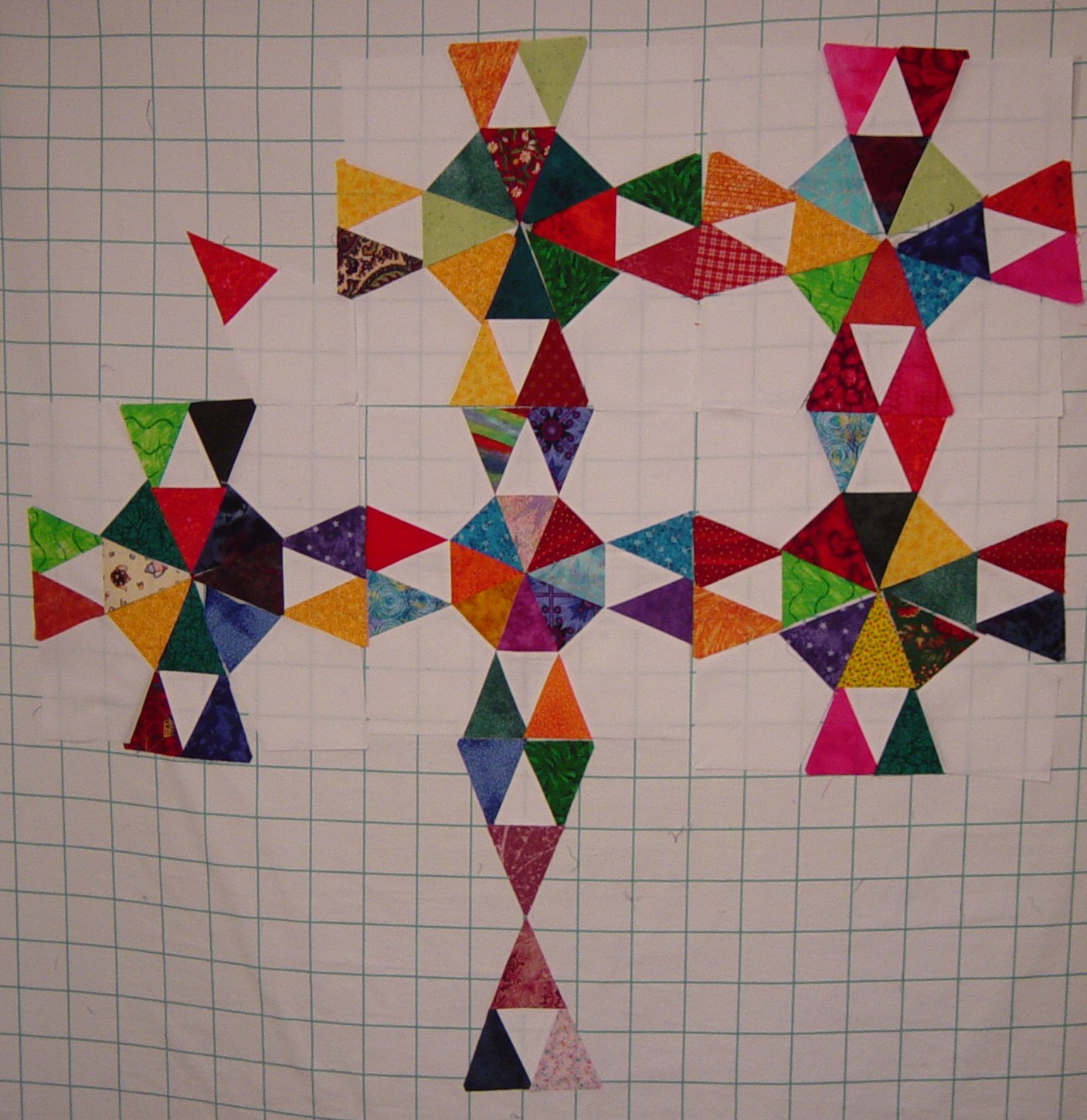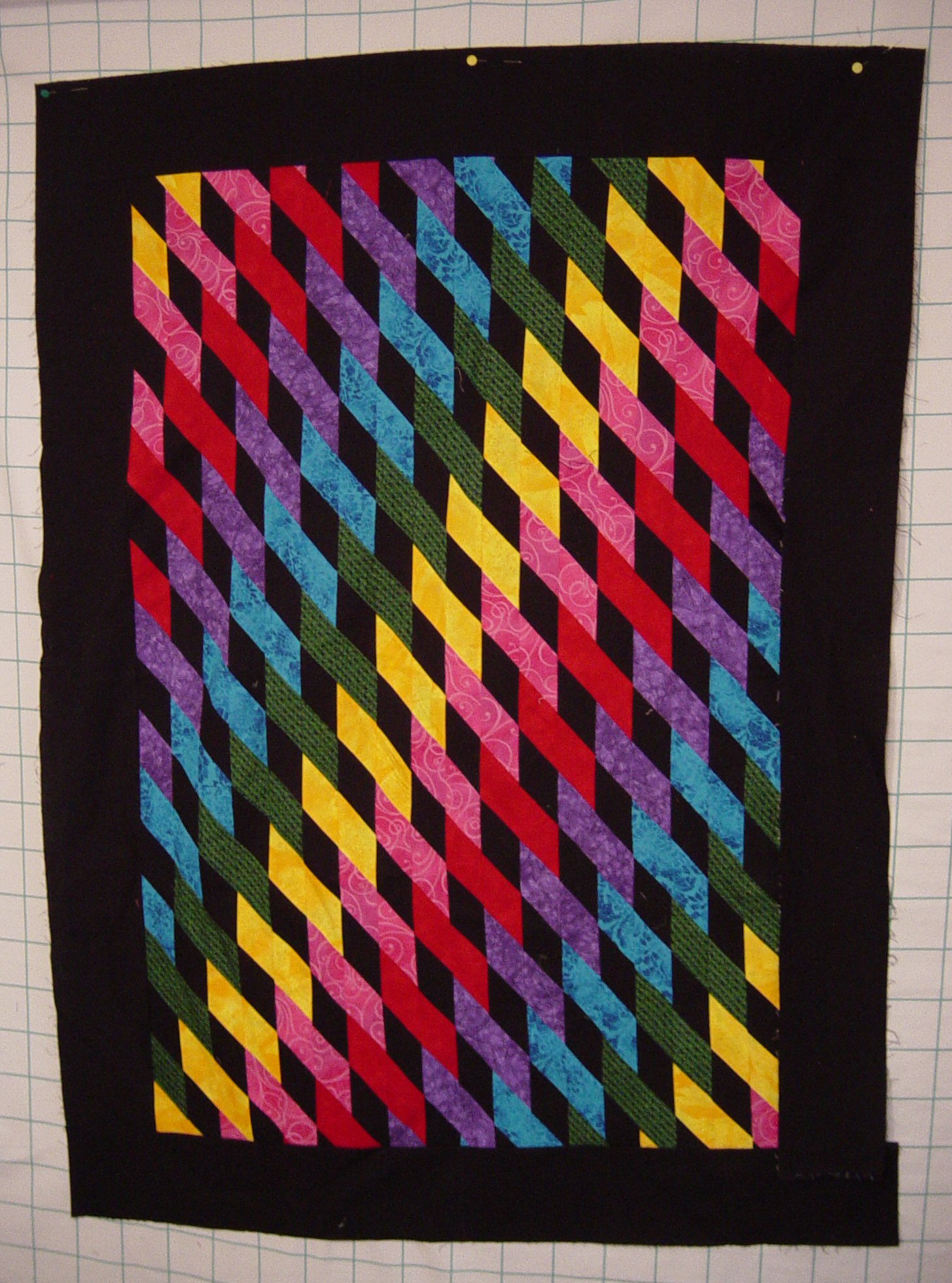 Jewels - Began November 11, 2005. Pattern from QNM May 2005 #372I.
Totally Tubular - Began 1/1/2006 as my New Year's project.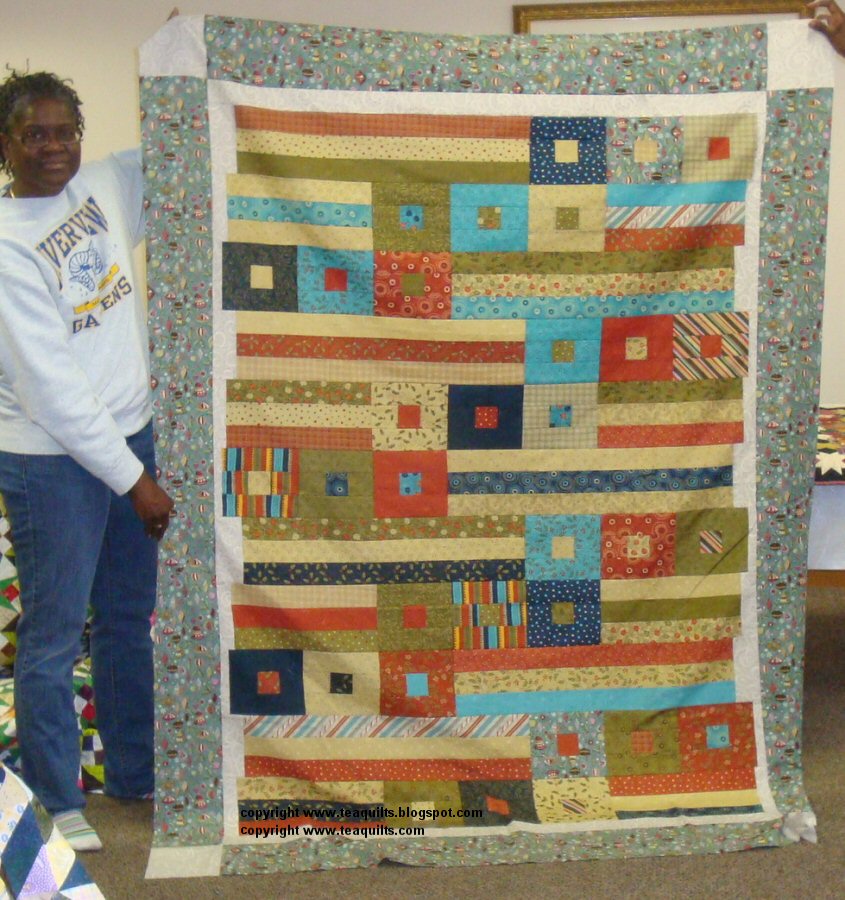 NEW Patchwork Plus BOM -

Began this Marti Mitchell BOM May 2005. I like the process as you piece the block frames and sashing as you go instead of ending the year with twelve blocks and piecing the entire quilt in one month. I need to add at least 2 more borders before it's completed.
NEW The Awesome Lap Quilt pattern from Moda Bake Shop. This pattern did require some adjustments but I love the end result. Began January 2011 with my Scrap Quilting Club. This top is ready for quilting.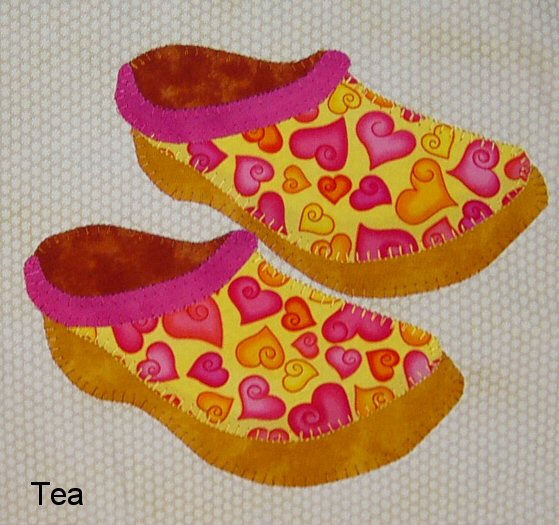 New York Beauty - Began this quilt February 2004 at the FVGQ annual retreat. Worked on it a little at the SSBQG 2005 retreat. Still making blocks.
Where Are Your Shoes and Socks? BOM by Pat Sloan that can be found at www.quiltershome.com . Began June 4, 2005
| | |
| --- | --- |
| | |
| Hidden Star Sampler - I used a lot of the patterns on Quilter's Cache to make this quilt. I'm working on a pieced border. Began 1/1/2004 | Birds - While crafting in the craft guild at work, a client and I colored these blocks with crayon. |
| | |
| --- | --- |
| | |
| NEW I started out think this would be a red, blue, purple and yellow/gold quilt. I ran out of strip really fast so I may just make it with all colors. We'll see when I get back to it. Sorry about the big mess! I was trying to ignore it but I had to clean it up as it got out of hand. | 3-D Pinwheels - I'm piecing more blocks for this quilt. Began 8/1/2000 |
| | |
| --- | --- |
| | |
| NEW Twist and Shout variation - I love this technique for making quilt on-point quilts. Pattern from Lyn Brown. April 2010 | Rainbow Baskets - This is my hand piecing project. I plan to do this one by hand. I have all the arcs pieced and am working on the basket handles. I'm using 30s reproduction prints. |
| | | |
| --- | --- | --- |
| | | |
| Embroidered Snowmen - My first embroidery I made when learning my new embroidery machine. The blocks were all free online. Began 12/1/2000 | Twisted Sisters - I made these blocks to teach a class. The technique based on Ami Simms booklet and template. Began 8/23/03 | Pineapple log cabin design by Sharon Rexroad. She came to our guild and taught this class. I'm still deciding upon final design for the corner and triangle pieces. Began 3/20/2004 |
| | | |
| --- | --- | --- |
| | | |
| Christmas BOM - I started this project in January 2004 and haven't found time to work on this one again. Hopefully it will be completed in 2005. | Double Wedding Ring - Made top in a class January 2005. | Stack-n-Whack - I have pieced all the rows. Next, add a spacer border and mini stack-n-whack blocks to use in the border. Began 2/1/2003 |
| | |
| --- | --- |
| | |
| Houses (1) - This is the setting I plan to use for this house quilt. One more row of houses which will include a quilt shop will be added. I plan to incorporate trees and such in the white spaces. Began 1/1/2002 | Fairy Houses - I got started on this project and don't know if I will complete the quilt as planned. I wish I would have used various greens in the background. Maybe I'll make this one into a table runner. Began 1/1/2002 |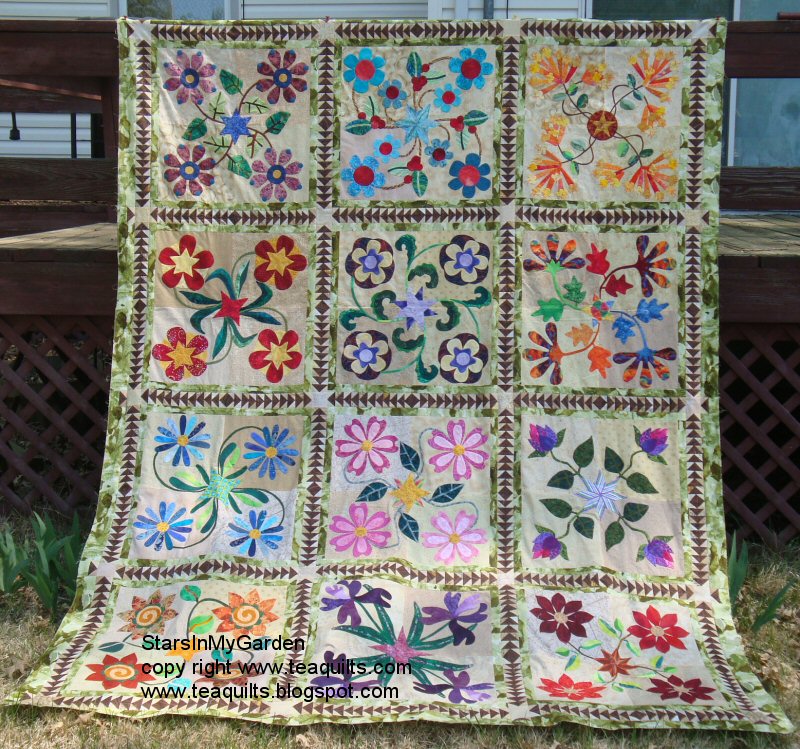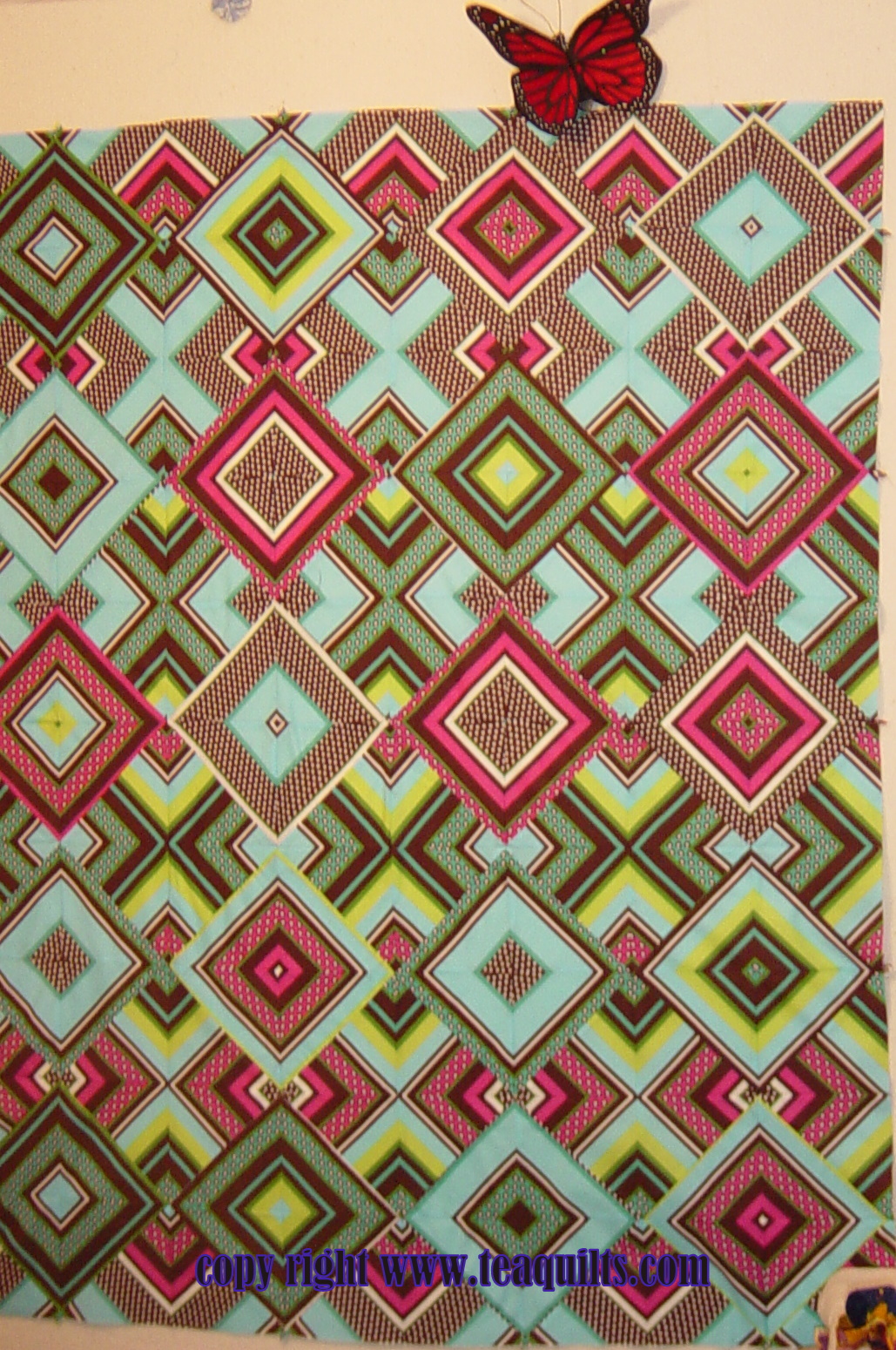 NEW Here are some of my first appliqué blocks. The floral blocks are from Stars in My Garden book by Piece O' Cake. Began 1/20/2002
NEW Pick a stripe fabric, cut it up and sew it back together. So far this is a one fabric top. I will add borders to it at some point. January 2010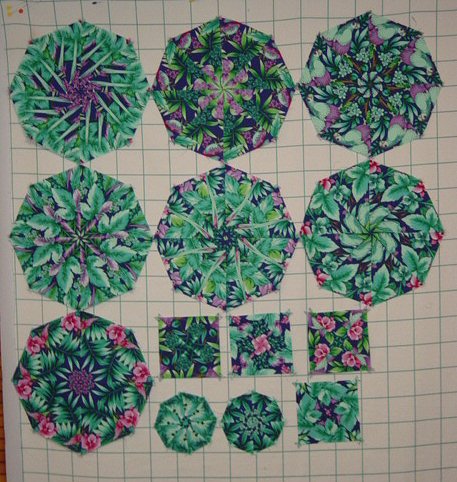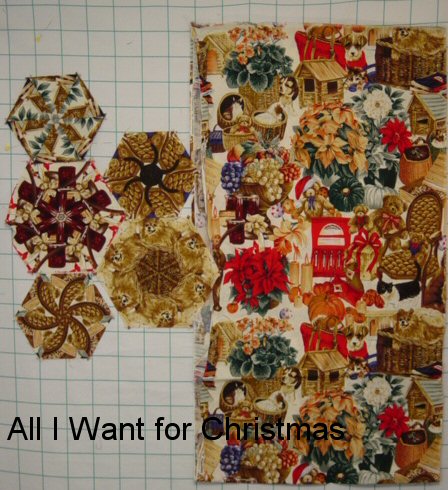 Tropical Teals - Another Stack-n-whack project. I'm piecing the blocks. Began 9/26/04
Yes, another stack-n-whack project. I'm piecing the blocks. Began 1/1/2003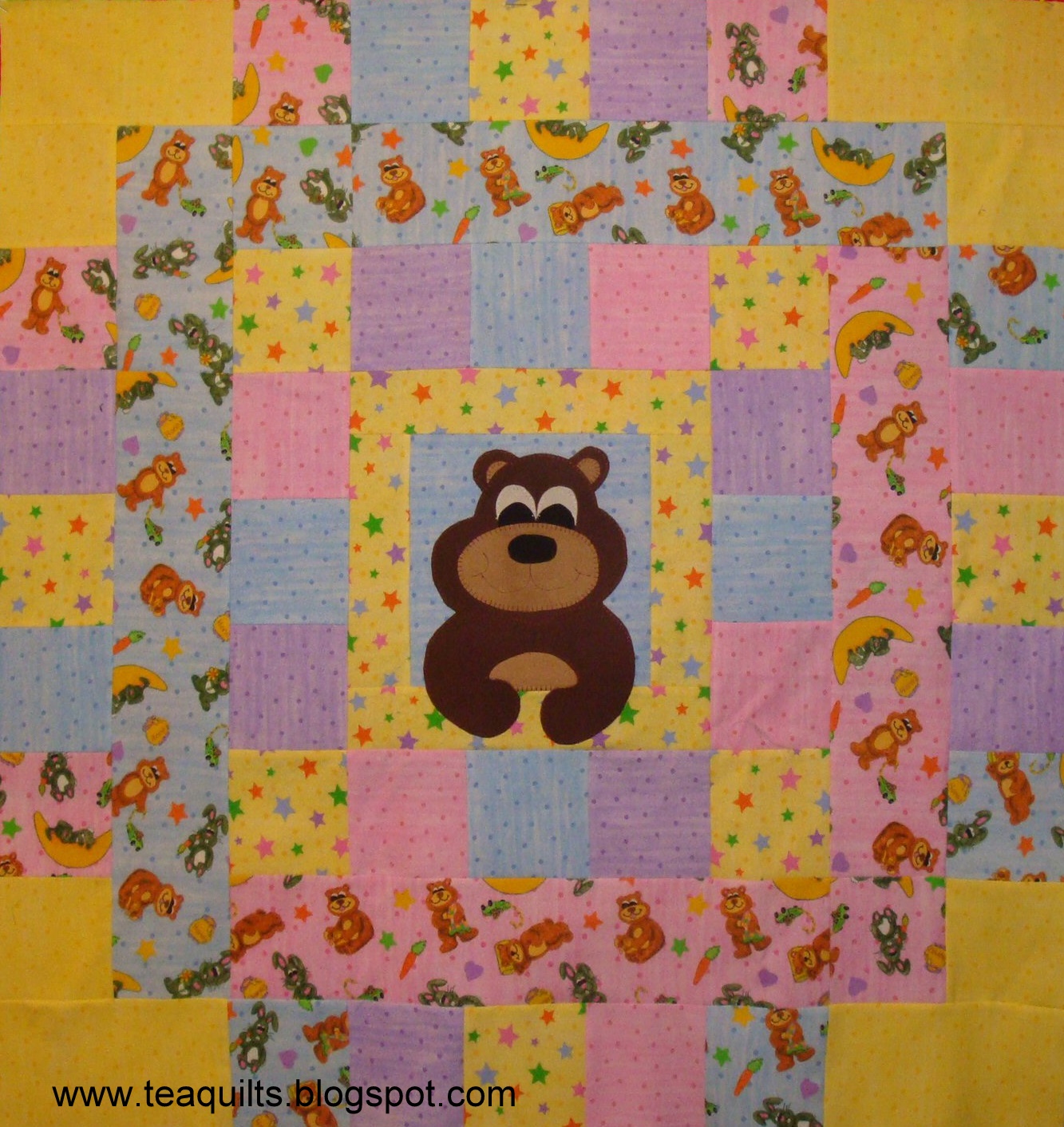 Yes, yes, another stack-n-whack. I cut this one to teach a class and love the blocks so much that I'm going to make more blocks...one day. Began 4/2/05
NEW Baby quilt top ready for quilting made from block in Quiltmaker's 100 Blocks Vol. 2. I'm just waiting to personalize it for a future baby to be. December 2010
Created 4/14/2005
Updated 03/01/2011
28