The six members of the So Sew Busy Quilt Guild began a round robin quilt in June 2007. The only restrictions was that the center be smaller than 20.5" unfinished on any side. Annie supplied fabrics for her quilt top and Debra included one of the fabrics used in her center. Each person had 2 months to complete their round. The tops were returned to the originator in April 2008. Press the arrow to the right and go all the way to the end. Work your way back to the left to see all 6 round robin quilts for this swap.
In 2008 Teas Snowman Swap Group held a swap. These photos are in front part of this gallery, however, you may have to scroll to the right as photos are added.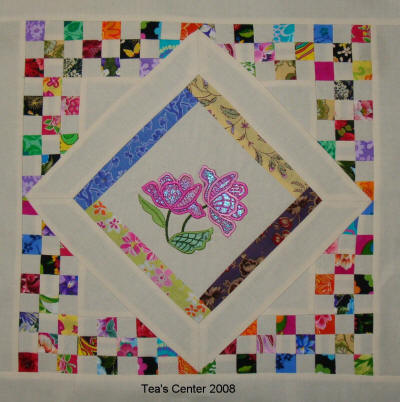 Began another round robin with Teas Snowman Swap Group in July 2008. This is my center that will receive three borders. The center is a machine embroidered design using angelina fibers. Since I needed the center to be larger, I added two borders and then set on point with 9-patch blocks. Come back every 6-8 weeks for updates.
Created: 4/20/2008
Updated: 07/25/2008