My Round Robin Quilt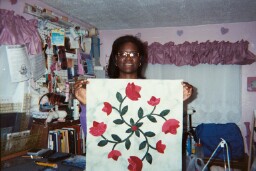 Center: This center square is my first attempt at hand appliqué. I started this block in September 2001 and in January when I joined the round robin, I thought this would make a perfect center (plus I wouldn't have to complete the rest of the appliquéd quilt top.) I combined two new activities (needle turn appliqué and round robin project) into one, anticipating grand results.
See the progression of the rounds added by other members of the group. Enclosed in my round robin packet I sent a tablet for group members to write their thoughts and to comment upon the progression of the quilt top. Read what each member had to say as you view the rounds being added.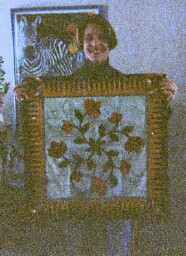 Round 1 by Sarah in MO. "Teajuana told me a little about her center before I actually saw it. It was her first appliqué, she wondered if her quilt would end up looking Christmassy because the colors were red and green, it wasn't much, but it would be fun to see what we all did with it. And then I saw it - WOW! Teajuana you are a master of understatements. Not only was I amazed at her Center, which in my opinion, didn't seem Christmassy at all, but everything she thought to put in the box with it.
I knew when I saw all of the curved lines that it needed points to complement it. I came across a saw-tooth paper pieced border and as they were the right length, it was an easy decision. To determine the colors, I settled on yellow and black to tie in with the tropical print Teajuana included in the packet. This was my third project using the paper-piecing technique.
Round 2 by Annie in MO. I knew Teajuana was an over achiever, but this center blew me away. I had to giggle when I read that the center was almost a UFO. I love the border Sarah put on! The yellow is perfect (I always struggle finding the right yellow.) The jungle floral is a perfect complement, it really ties the reds and yellows in with the black.
My task to add another border seemed daunting. I could set it on point, but the quilt didn't seem ready for that, and I wanted to do something more. So after lots of searching, I finally saw it. A twisted/folded ribbon.
Round 3 picture accidentally erased; will replace with next update.
Round 3 by Barb in WY. Teajuana your block is great. I thought about doing more appliqué but I am a slow appliquér. Instead I came up with putting 2-1/2" blocks on point. It was fun.
Round 4 by Nancy in WY. I love this quilt! Every single border has enhanced that beautiful center!. After considerable study, I decided that the quilt was telling me I needed to get back to the center. The first challenge was to locate enough green to match the center. I discovered the fabric is out of print. I drove to Fort Collins and found a solid that would work. I am not what I would consider an "expert" at appliqué, but I enjoyed doing it and am pleased with the end result.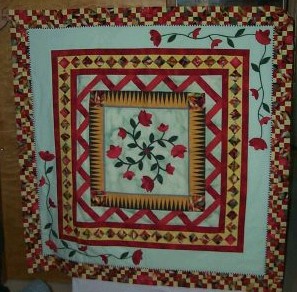 Round 5 by Maggie in WY. Isn't this a gorgeous border? Maggie took this photo and sent it via e-mail during the robin process. Thanks for the early peak.
Round 6 by Shannon in WY. Your center is lovely and all before me did such beautiful borders. I really wanted to bring it back to the center but couldn't quite get there. I went down to my mentors at the local quilt shop for guidance.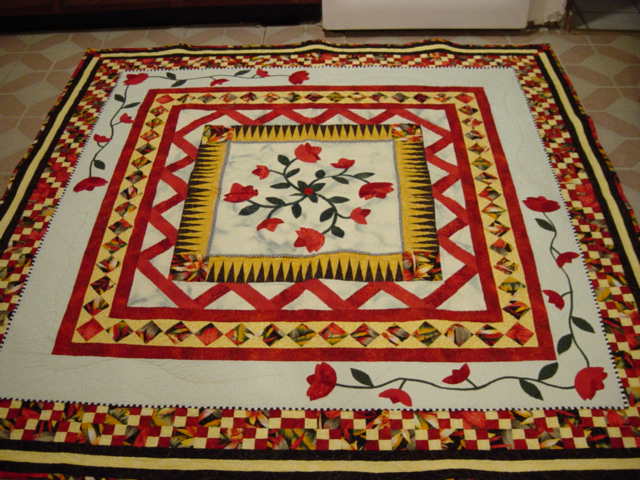 Completed Round Robin
Comments by Jane Adams in WY. I have been looking at this stunning quilt for a week and my conclusion is the same as my first impression - this top is finished! The black and gold stripes tie everything together and really stop the eye. So I considered several different possibilities for borders but decided none of them added anything to the design except another border. So all I can add to this top for you is high praise for everyone who has put amazing creativity into it.
Comments by Teajuana. I agree that the quilt is finished. It did turn out rather grand, don't you think. I was so amazed when it returned home. First, it definitely was not Christmassy so I can use it for more than one month of the year. Second, it is fabulous! Thanks to everyone for all the hard work. You deserve major pats on the back. I now have something that I will treasure always, reminding me of each and every one of you. My wish is that all of you liked the borders I added to your quilts just half as much as I loved yours.
Machine Quilting by Sarah in MO Sarah done a beautiful job quilting this top. I was afraid to quilt with my limited quilting abilities as I did not want to take away from the beautiful work. Sarah is very talented in that her quilting not only made this top into a quilt, but jazzed up an already exquisite top. Kudos to Sarah for a job well done! Click on each picture for larger view.
Quilt began September 2001 and completed February 12, 2003.
NOTE: On the Swaps page, I'm participating in another round robin.
Created 12/12/03
Updated 4/20/2008
No hit counter on previous page.